Your North-Central Indiana Home Inspectors
When Experience Matters Most
We are your premier home inspectors in Syracuse Indiana and all surrounding areas. We have over 30 years of construction experience combined with our inspection experience that make us one of the most qualified home inspectors in the State. So if you are looking for the best home inspectors around, contact us –
Close Home Inspections LLC!
Inspection Services
Your One-Stop Shop
We provide a wide range of inspection services here at Close Home Inspections, and perform them with the highest level of inspection standards in the country.
We understand the importance of having a thorough inspection, and getting everything you need in a timely manner as well. We are also InterNACHI Certified, and have more training and experience than the average home inspector.
There is no need to get multiple inspectors, as we provide the inspections you need to make wise decisions. So contact us today, and see why so many continue to choose us as their home inspector!
Great Guy! Professional & Responsive Contact. Very nice interaction. Thorough inspection at a great price value. Very good explanation that was easy to follow. Thanks so much!!
Mitch is an experienced and conscientious professional! Highly recommend his services!!
Close Home Inspections, LLC is the most professional home inspector in K county. Highly recommend their services. If you want to find out what skeletons may be hiding in your future home purchase, Mitch is the guy. He won't stop until he feels like you've gotten the value you paid for. He went above and beyond to explain why things were identified and how critical each line item could effect my family over the long run. I do plan to purchase my home after his inspection and trust his independent opinions. 5 stars! Great Job Mitch!
Michelle McCool
2021-05-26
Mitch was very responsive and on top of it. He took the time to explain things to me. Thank you Mitch for going above and beyond for my family!! You are much appreciated!! Michelle McCool Jackson
Olen Borkholder
2020-01-19
Great inspection service and super nice guy thanks mitch for everything
Your Premier Inspector
My name is Mitch Close, Certified and Licensed Professional Inspector, and owner of Close Home Inspections LLC. I am proud of the company and reputation we are building here. For over 30 years home owners and buyers like you have trusted us with home repair, remodeling and now inspecting their homes. We are highly qualified and focused home inspectors who "leave no stone un-turned".
Make us your local trusted home inspector.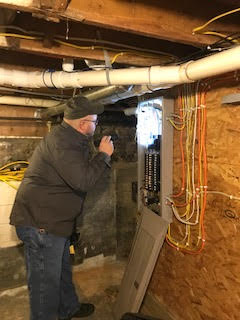 Inspecting Homes
Seven Days a Week
Your home inspection waits for no one – even the home inspector. Buying a home is always difficult when there are time constraints involved, taking time off of work to deal with paperwork and other matters, and even scheduling your home inspection. That is why we are available 7-days a week for our clients. We work around YOUR schedule to ensure you get a thorough home inspection, a detailed report, professional service, and all of it in the time frame of your particular real estate transaction.
Highly Qualified
Certifications That Matter
We are one of the most qualified home inspectors in the area. While we have vast experience that is hard to beat, we also know the importance of having standards to follow, continual training to keep on top of the always-changing construction industry, and to have the knowledge to pass all of the exams and requirements of each organization to bring you the best home inspection possible.
Syracuse Indiana Home Inspections
Serving All of North-Central Indiana
We provide thorough and detailed home inspections in North-Central Indiana, including, but not limited to, Syracuse, Cromwell, Milford, New Paris, Millersburg, & all surrounding areas!